With the help of the fantastic GoodBarber service, I was able to design and publish a cross-platform iOS (iPhone and iPad) and Android app for Chicago's classical radio station, 98.7WFMT.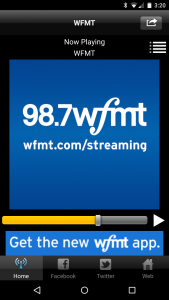 The focus for the app was to make a much more stable, more beautiful app than the previous solution, which was far too generic. It had been built by a third party that makes money from repurposing the same app architecture and visual design for every radio station client. This meant the app wasn't very customizable, nor was it reflective of WFMT. These essentially one-off apps can also be quite costly (upward of $10,000 to $15,000) and often only upgraded for an additional fee.
---
I'd been wanting to build an app for some time, but the learning curve and amount of dedicated time are substantial especially for a native cross-platform app. Even assuming you learn (nay, masters) each specific coding language and publishes an app, you still have to support it and account for the experience each user will have, just as with a website. Enter GoodBarber, the type of service that had eluded me for years. The most arduous work of building a useful, fun app is taken out of your hands so you can focus on the user interface and content.
The idea for the app was to greatly simplify everything, while keeping with WFMT's current branding. Users of your mobile app will be even less patient than those of your website, so I wanted to retain the key functionality our website users expect while removing any unnecessary clutter and giving them the smoothest experience possible through which to experience WMFT's amazing classical content.
Some features (among many others) include a live audio stream, aggregation of all WFMT podcasts and recent WFMT blog/news posts. See the screenshots below; you can download the iOS app or the Android app.